The sticky gold chute equipment is one of the most popular gold selection equipment, and the sticky gold blanket chute is generally composed of a flow channel body, flow channel lattice, and sticky gold blanket. The sticky gold chute for gold ore selection is commonly used in placer gold concentrators, and is commonly used in conjunction with vibrating screens for immediate gold jewelry recycling.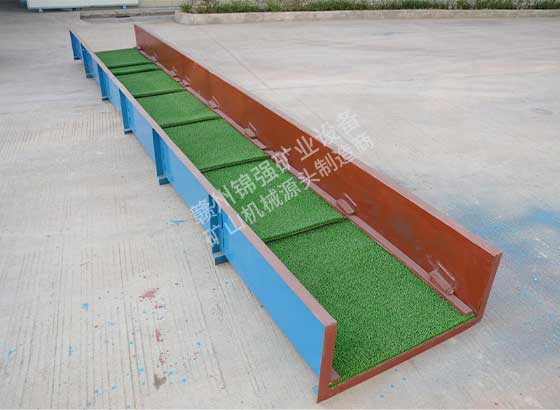 Advantages and Characteristics of Sticky Gold Chutes
1. High quality and low price, compared to other gold selection equipment, the price of the sticky gold chute is extremely low
2. The installation is very easy, and the use and operation of the gold ore selection adhesive gold chute are simple, with reasonable structure, high compressive strength, and strong dismantling ability, which is conducive to transportation and demolition
3. Maintenance is very easy, just remove and replace the sticky gold blanket, and its service life is long and the price is cheap
4. Large output, with a total width of 1 meter and a length of 4 meters, the sticky gold chute can handle 5 tons of raw ore per hour. In addition, customers can customize various specifications and models of sticky gold chutes according to customer regulations;
5. No driving force, which can save the cost of the beneficiation plant
Although there are many advantages to the sticky gold chute in gold ore selection, the sticky gold blanket chute requires it to have a weaker actual effect on the beneficiation plant with block gold in fine placer gold. Overall, the utilization rate of the sticky gold chute is less than 70%. Therefore, more and more mines are choosing more excellent gold separation equipment nowadays, such as using agitation launchers, jigs, or centrifugal dewatering machines in ore dressing plants to improve the utilization rate of gold separation.
The sticky gold chute equipment is one of the most popular gold selection equipment, and the sticky gold blanket chute is generally composed of a flow channel body, flow channel lattice, and sticky go