The gravity chute equipment is suitable for screening copper ore, Ilmenite, Chromite, Bauxite, zircon, Rutile, monazite, phosgenite, tungsten ore, tin ore, tantalum ore, niobium ore and other rare metals, non-ferrous metals and mining enterprises with different proportions of coarse materials with a particle size distribution of 0.3-0.02mm. The gravity beneficiation spiral chute equipment has the advantages of smooth and easy operation throughout the beneficiation process, wide range of allowable changes in feed concentration values, high aggregation ratio, and high utilization rate.
The gravity beneficiation spiral chute has the advantages of small footprint, low water consumption, simple structure, no driving force, large output, simple installation, convenient practical operation, and good investment effect.
Gravity chute structure:
The spiral chutes of gravity beneficiation equipment are composed of a feeding homogenizer, a cross (tripod), a feeding trough, a spiral trough, an extraction trough, a gathering hopper, and a trough support.
Operation method of spiral chute of gravity beneficiation equipment: erect the spiral chute, correct the bisector, fix it at a suitable position with iron frame or wood, send the stone sand to the two feed outlets on the top of the spiral type by the sediment pump, add water for filling, adjust the concentration value of the mineral slurry, the mineral slurry will naturally swirl from high to low, and create an inertial Centripetal force in the rotating slope water flow According to the difference in appearance, according to the force of vortex flow and the effect of Centripetal force, the ore and sand are separated, the titanium concentrate is injected into the titanium concentrate bucket and connected in series with pipelines, the industrial waste slag flows to the industrial waste slag bucket and receives the sand pool with pipelines, and then is discharged by the sediment pump, completing the whole process of the concentrator.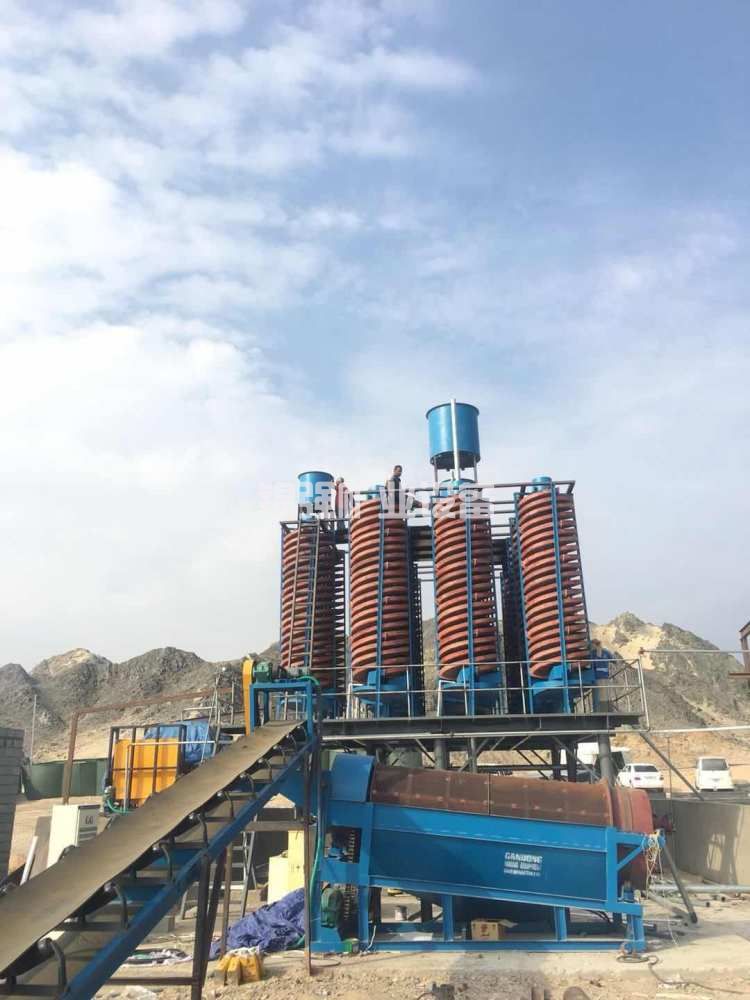 1. Ore feeder
2. Cross (tripod)
3. Feeding trough
4. Spiral groove
5. Product extraction tank
6. Commodity gathering bucket
7. Slot support
The working characteristic of gravity beneficiation equipment spiral chutes is to extract fine, medium, and tailings reservoirs at the tail end of the chute, and there is no need to clean water during the entire beneficiation process. The gravity beneficiation spiral chute is the main component of mechanical equipment, and the spiral plate made of fiberglass anti-corrosion needs to be connected with screws. The inner surface of the gravity beneficiation spiral chute is coated with a wear-resistant lining, usually made of polyurethane material wear-resistant adhesive or epoxy resin adhesive mixed with synthetic diamond sand. At the same time of gravity beneficiation spiral chute, the inner surface layer carries the wear-resistant layer containing Gabbro powder. There are ore separators and feeding slots above the spiral groove; There are material extractors and ore receiving slots below. All machinery and equipment are vertically erected with waste steel.
The gravity chute equipment is suitable for screening copper ore, Ilmenite, Chromite, Bauxite, zircon, Rutile, monazite, phosgenite, tungsten ore, tin ore, tantalum ore, niobium ore and other rare met