Shaker is a gravity beneficiation equipment for selecting fine-grained materials
date:2023-07-21 source:小编 click:次
Shaker is a gravity beneficiation equipment for selecting fine-grained materials, widely used in the selection of tin, tungsten, gold and silver, lead, zinc, tantalum, niobium, iron, manganese, titanium iron, coal, etc. The shaking table has evolved from the initial straight bed shaking table to the current 6-S type and ion ripple shaking table. The shaking table can be used for different operations such as rough selection, selection, and cleaning, with different particle sizes such as coarse sand (2), fine sand (0.5), and mineral mud (-0.074mm). The effective recovery particle size range of the shaking table is 2-0.22 millimeters.
The mineral processing process of a shaking table is carried out on an inclined bed surface with multiple strips. The ore particles enter from the feeding trough at the upper corner of the bed surface, and are supplied with horizontal flushing water by the feeding trough. Therefore, the ore particles are layered according to their specific gravity and particle size, and move longitudinally along the bed surface and laterally along the inclined bed surface under the inertia and friction effects of gravity, lateral water flow impulse, and reciprocating asymmetric motion. Therefore, ore particles with different specific gravity and particle size gradually flow in a fan-shaped direction from A to B along their respective motion directions, discharged from different areas at the concentrate end and tailings end, and further divided into concentrate, intermediate ore, and tailings.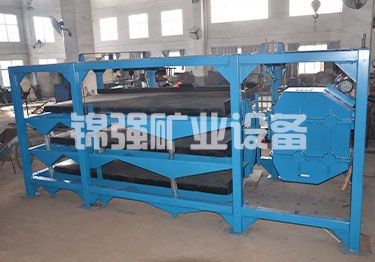 The jig is a fixed screen type suitable for selecting metal ores, which can be used to select both fine-grained materials and coarse-grained materials. The feed particle size is 6-8mm, but in some cases, the particle size is 12mm when selecting sand ore.
The beneficiation machine belongs to the deep groove sorting operation, which uses water as the beneficiation medium and utilizes the specific gravity difference between the selected minerals and gangue for sorting. The beneficiation machine is mostly diaphragm type, and the stroke and stroke can be flexibly adjusted according to the specific gravity of the selected minerals. It is widely used for gravity beneficiation of metals such as tungsten, tin, placer gold, hematite, brown iron, manganese, titanium, antimony, lead, tantalum, niobium, etc.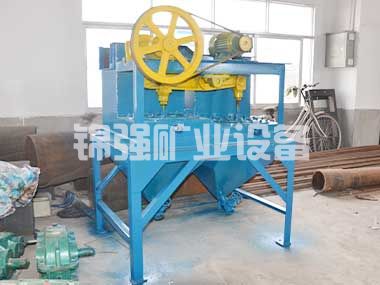 FRP spiral chute is a new type of domestic equipment developed by combining the characteristics of spiral concentrator, spiral chute, shaker, centrifugal concentrator, etc. It is suitable for non-ferrous, rare metal and non-metallic minerals with different specific gravity, such as iron ore, Ilmenite, Chromite, pyrite, zircon, Rutile, monazite, phosphate, tungsten, tin, tantalum, niobium, etc. Especially for sand mining on beaches, riverbanks, beaches, and streams, it is more ideal.
The spiral chute has the advantages of stable selection process, easy control, large allowable variation range of ore concentration, high enrichment ratio, high recovery rate, small floor area, low water consumption, simple structure, no need for power, large processing capacity, simple installation, convenient operation, low investment, and fast efficiency.
Spiral classifiers mainly include high weir single helix and double helix, low weir single helix and double helix, and submerged single helix and double helix, which are rarely used, mainly high weir and submerged.
Spiral classifiers are widely used in ore dressing plants and ball mills to prepare closed loop split flow ore sand, or in gravity ore dressing plants to classify ore sand and fine mud, as well as in metal ore dressing processes to classify the particle size of ore slurry. And operations such as desliming and dehydration in ore washing operations. This machine has a simple structure, reliable operation, and convenient operation.
Spiral classifier is a principle that the settling speed in liquid varies due to the different sizes and specific gravity of solid particles. Fine ore particles float and overflow in water, while coarse ore particles settle at the bottom of the tank. A grading device that is pushed upwards by a screw to discharge the powder from the mill, which can be graded and filtered. Then, a spiral plate is used to rotate the coarse material into the feed port of the mill, and the filtered fine material is discharged from the overflow pipe.